Companion Care Holds Annual Caregiver Meeting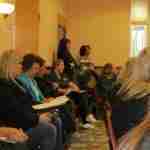 Companion Care, inc., a leader in providing home care services to clients in King and Snohomish County communities including Lynnwood, Kirkland, Bothell and Woodinville held its annual Caregiver meeting on February 01, 2021, at the Merrill Gardens Creekside facility in Woodinville. Merri Klein, President of Companion Care hosted the meeting which was attended by nearly all of the 60 plus members of the home care service staff. Merri explained that the purpose of the meeting was to "…express our appreciation for all the good work that our caregivers do and to share with them new ways that we can improve."
One showing of appreciation was the refreshments, including cookies and a meat and cheese tray donated by the family of a client in appreciation for the supportive home care services they received from Companion Care staff. Other refreshments included wonderful oatmeal cookies prepared by the husband of office staff member, Linda Larson.
Prior to the official start of the meeting, CPR training was provided for all who desired to participate. Twenty-one staff members completed the training which was coordinated with the Woodinville Fire Department. Merri said that she is happy to sponsor CPR and first aid training because it not only enhances the home care services offered by Companion Care but also can be important outside the work environment.
A representative from a Snohomish County memory care facility made a presentation describing the special services that the facility has asked Companion Care to provide. Caregiver response was enthusiastic with many of the staff volunteering to participate in this special program. Companion Care services include not only home care services for elder clients living in their homes, but also for those who live in independent living, assisted living or memory care facilities.
New photos were taken for new identification badges that were issued to the staff during February and door prizes were awarded.
Merri completed the meeting by reading some of the many positive comments that she receives from family members of elderly clients who receive home care services and by expressing her own appreciation for the wonderful, conscientious efforts made by the caregivers. Many of the staff remained following the meeting, spending time with old friends or making new ones.
Next post: Client Feedback – Nancy (Video) Edit
Previous post: Elderly Parent Care in Tough Financial Times